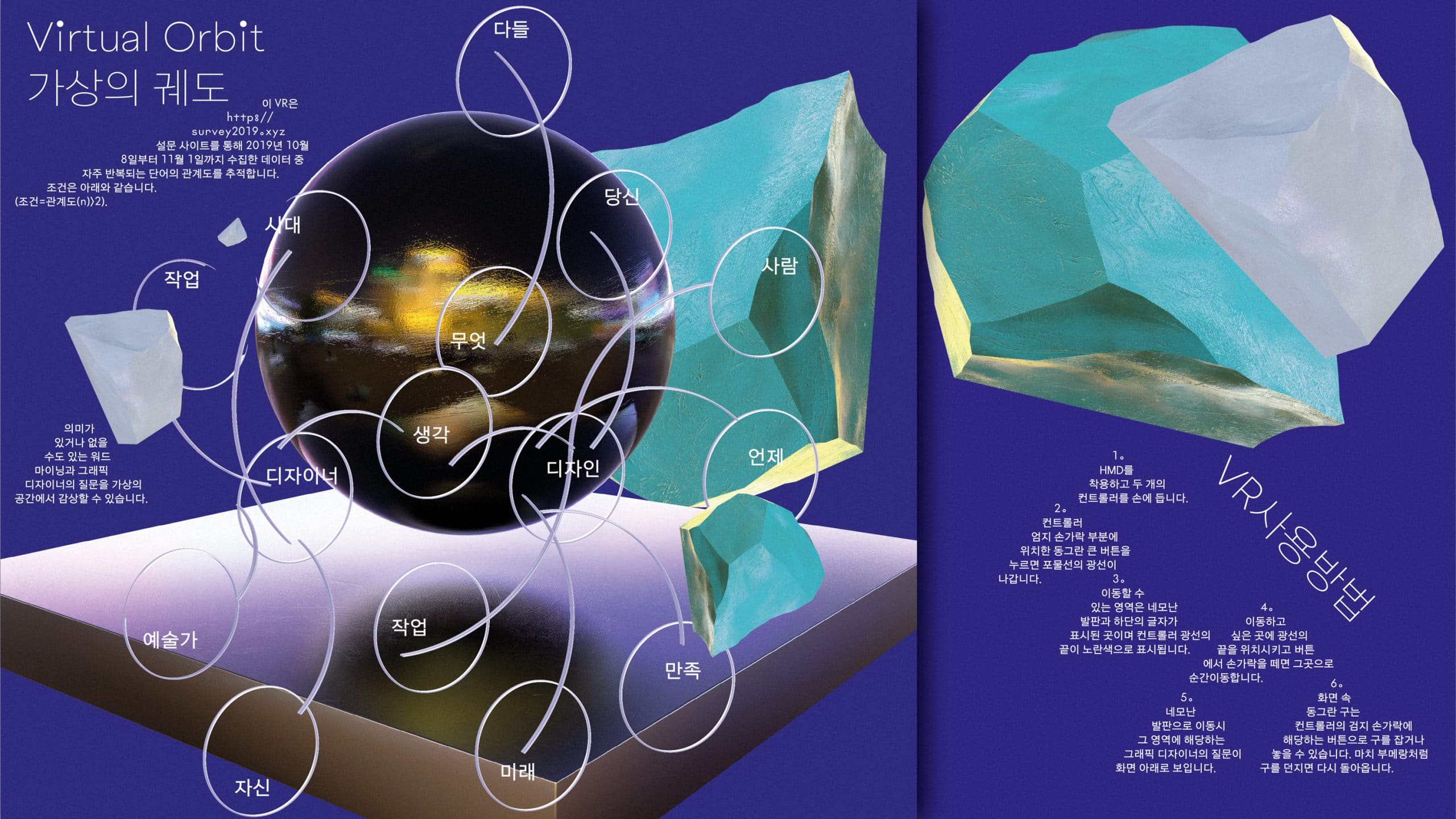 Survey 2019
Survey 2019 is an attempt to collect answers from graphic designers, connect with each other, and plot a huge picture of the situation. The exhibition, organized by whatreallymatters and Rebel9, tracks inspiration, but has no plans to glorify the moment of inspiration.
Of course, the absence of inspiration is welcome in this exhibition. The display does not cover graphic design. For example, posters, brochures, website designs, logo designs, etc. cannot be found here. Instead, the exhibition focuses on the graphic designer's answers to 13 questions through the pre-survey website http://survey2019.xyz
For example, ask 'When, where, who's inspired by?' 'What's considered and how you start before you work,' 'When do you wants to quit for what reason', 'What media you're referring to and recording it for yourself,' 'Where is your work in design theory' and finally, 'What is your question to the contemporary designer?' and so on. The intent of the question is to connect graphic designers with how they are interacting with concepts such as inspiration and at the same time thinking about what they are thinking about as graphic designers.
Interestingly, about 80 percent of graphic designers who answered questions were prospective designers or graphic designers in their first and second years, who asked designers again about their health, their uncertain future, and their position in society. The questions were asked for another survey, and the exhibit responded by creating a second questionnaire called 'Designer to Designer' and asking 22 designers with more than three years of experience to answer.
So this exhibition is a tail-picking process in which the questions and answers are tied to each other in an unstable way. The display depicts the process of arranging the records of the survey into a database where the mean value of the statistics has been removed (location 1, whatreallymatters), and tracking the trajectory of inspiration (location 2, Elephantspace) in a hypothetical space. Rather than focusing on yesterday's questions, Survey 2019 brings together the questions of graphic designers to look at other people's inspiration and inspiration.
The most important consideration in exhibition graphic design is typography. The exhibition, which almost excludes images, consists of websites, VR and printing. Because each medium has different characteristics, we first try to find a consistent tone voice by comparing thickness, size and typeface with a few typographies. Use display typeface for title to convey the weight of text and the character of exhibition, and content to contain information takes precedence over readability using medium typeface.
Also, color is as important as font style in this exhibition. The color of the exhibition is blue. We wanted to express blue, which doesn't mix with other colors as much as possible. In the digital environment, we chose blue (0,0,225). But when converted to CMYK to print it, it is expressed in a rather murky color. We use risograph printing to express blue, preferably in order to find a color similar to blue on a digital screen.