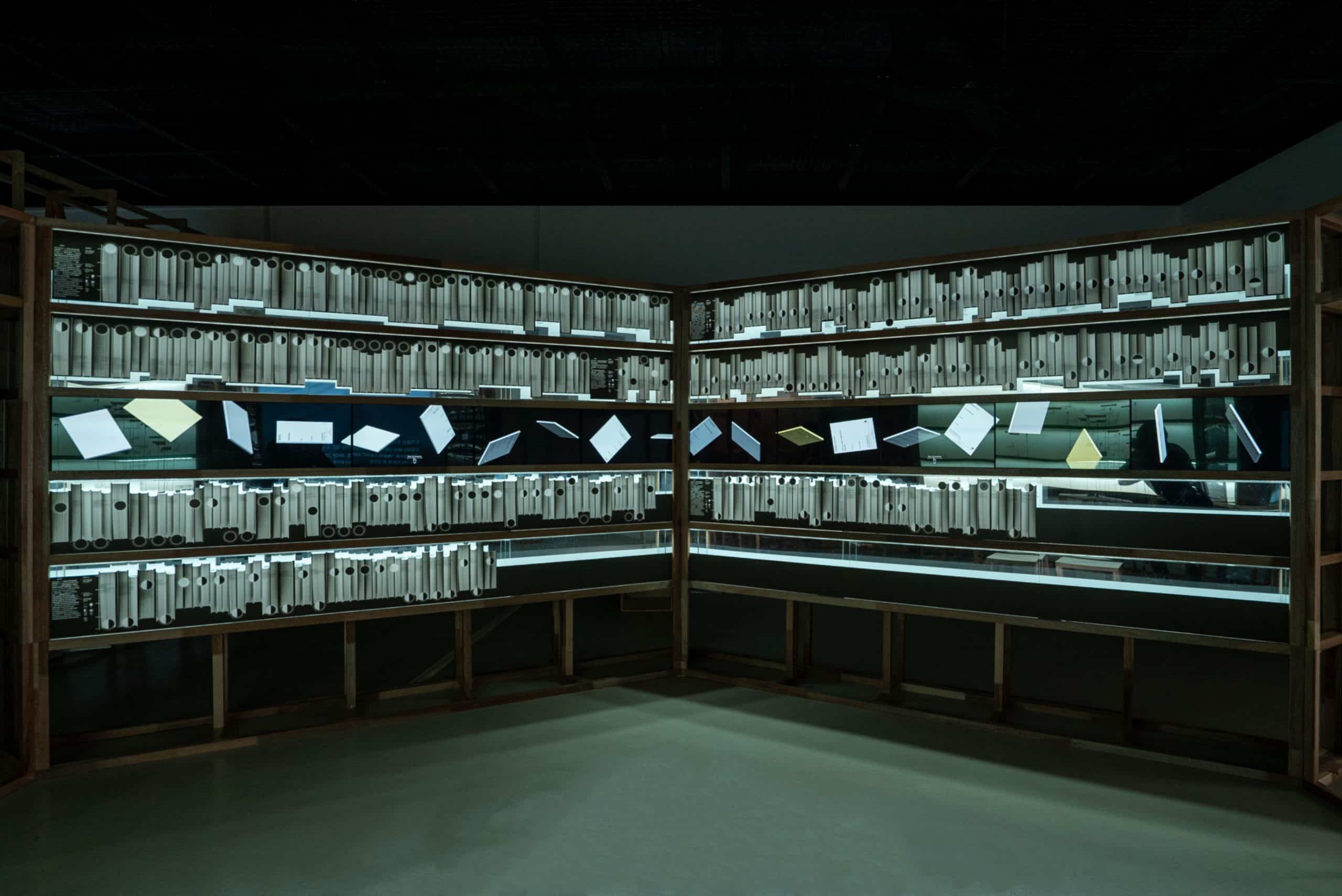 Document Extender-Constellation of Association Document
Project-Rebel9 brings to discussion the rift between what is archived —representing status— and what is remembered – representing an action; – social, cultural and technological systems and order surrounding them; and the mode of experience of the generations that exist in these systems and order. In this exhibition, the artist explores the records of APAP archive and artworks and the spaces that have been emptied, and visualizes the archival information from APAP1 to APAP5, life cycle of artworks (conservation and management records), and verbal explanations of APAP docents in media work. The artwork invites the users (visitors) to search for and interact with APAP archives in various forms of media.

Videos Single Chanel Video with Stereo Sound, 12 Min 10 Sec And Interview Subtitle Video, 12 Min 11 Sec / Installation 50×1620×210cm Wood, Acrylic Plate, 10 Digital Panels, Projector, Screen Dimension Variable
This project focused on rediscovering the lights that had been extinguished among the insufficient evidence (or documents) of APAP, putting aside the desire for the complete archive. And the lights are raised from document to document, from document to sound, through the memories and associations surrounding APAP. I see the archive world as a clash of classifications and associations, and an endless series of small steps. Classification is a matter of hierarchy in the upper and lower classes, and another face of power. However, a senior statue is a journey of self-imposed play and adventure. Thus, free associative play is always alienated from power.
The clue to the timeline for the project is the "unrecorded" memory, the voice of a tour program commentator at Anyang Art Park. In the memory of visitors to Anyang Art Park and the narrator leading them, archives outside the archives of documents that cannot be contained in official documents appear. I reconstruct it with a complementary plot, not a reciprocal correspondence between the recorded and unrecorded archives.
Although the territory of the database contained by digital archives is hypothetical, it is assumed that certain and unintended errors are unacceptable. This leads to the illusion that archival documents will meet digital and have eternal vitality. However, there are traces in the territory of the database, and they just wait to be connected. It's just that we don't see it. The same goes for digital documents collected so far by APAP. APAP's various document folders, voices between commentators and visitors, and the Anyang Art Park as physical territory, will build a hexagonal archive that is both real and virtual, to look at each other's trace.
Let's not call this archive a complete archive. Rather, it is a temporary home to documents and memories. Instead of archiving power that takes a period, it is a link of expansion that brings up and calls out unconscious memories of APAP. And I call up the memory extender of Vannevar Bush here. When you turn on the APAP document extension, the reason for the lack of inherent evidence in the archive is now a navigation from APAP to APAP.
A memex is a device in which an individual stores all his books, records, and communications, and which is mechanized so that it may be consulted with exceeding speed and flexibility. It is an enlarged intimate supplement to his memory.
— Vannevar Bush, As We May Think (1945)
Document Extender – Constellation of Association Document
Project-Rebel9
---
From APAP to APAP
APAP Review Exhibition
---
Written and Directed by Sunhyuck Kim
Production Manager: Boram Jang
Exhibition Producer: Soomin Kang (APAP), Yurim Lee (APAP)
Space Design: Ara Ko
Script Editor: Hyunin Lee
Database Developer: Jungkyung Park, Jonghan Park
Interaction Developer: Jungmin Seol, Seungchul Jeon
Hardware Developer: Haesu Jung, Minwoo Kim
Graphic Design: Jungwook Kim, Boram Jang
Voice: Gwuija Lee (APAP Docent), Jeongim Choi (APAP Docent)
Editing: Jungwook Kim
Camera: Sanghyun Lee (Teddy Bear Production)
Live Recording: Teddy Bear Production
Assistant: Yongwoo Kim
Photo: MAMBO, Sanghyung Lee (Teddy Bear Production)
Commissioned by APAP6